Location
CHÂTEAU SAINTE-ANNE Rue Du Vieux Moulin 103 1160 Bruxelles
Peggy Guggenheim (1898–1979), niece of Solomon R. Guggenheim, founder of New York's Guggenheim Museum, deserves much of the credit for spreading "the religion" of modern art across oceans. She was a colourful character, a self-described "art addict" who made her mark on the world through collecting art works from Vasily Kandinsky to Jackson Pollock to Yves Tanguy, Marcel Duchamp and countless others. Her private life was as passionate and colourful as her collecting. While fighting through personal tragedy, she maintained her vision to build one of the most important collections of modern art, now enshrined in her Venetian palazzo.
Our speaker Isabel Vermote is an Historian and Art Historian. She studied at the universities of Namur, Leuven and Brussels. She currently works for the Education Department of the Royal Museum of Fine Arts of Belgium and is also a lecturer at the Bozar, ING, Belfius and for some private collections.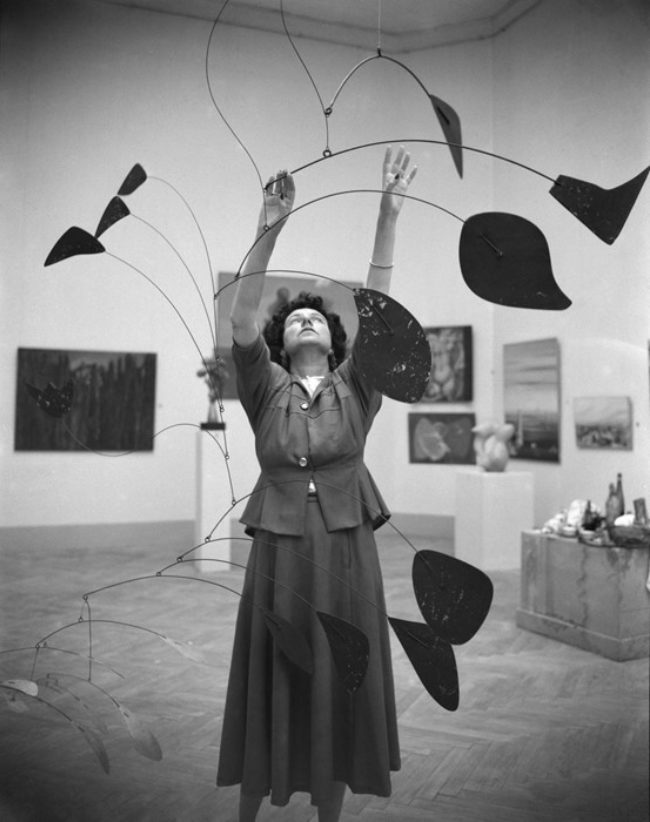 Some background to the talk on April 20 about:
PEGGY GUGGENHEIM - ART COLLECTOR AND GALLERIST
Born: August 26, 1898 - New York -  Died: December 23, 1979 - Venice, Italy
Movements and Styles: Surrealism, Abstract Expressionism, Modernism and Modern Art
Early Life: 1920-37
Financially independent due to the inheritance she received when she turned 21, Guggenheim was able to continue her search for a different lifestyle. In 1920, she began working as an unpaid assistant at Sunwise Turn, a midtown Manhattan avant-garde bookstore. Mary Horgan Mowbray-Clarke, the wife of the sculptor John Frederick Mowbray-Clark who had helped organize the 1913 Armory Show, and Madge Jenison, a noted author and activist, cofounded the bookshop, one of the first woman-owned bookstores in the country. The bookstore was a hub for avant-garde literature and socialist ideals and also featured small art exhibitions of emerging artists. As Harold Loeb, the art critic and Peggy's cousin wrote, "Coming under Mary Clarke's spell Peggy gradually discarded many traditional taboos and adopted a whole set of new ones. Feeling guilty, no doubt, for having inherited wealth, she came to deny herself some of the luxuries to which she was accustomed. In compensation she collected the latest in experimental painting and gave money and meals to poor artists and writers."
Guggenheim Jeune: 1938-39
Guggenheim began thinking of starting a publishing company or an art gallery, and with the inheritance she received after her mother's death in 1937, she opened the Guggenheim Jeune gallery in London in 1938. Aided by Duchamp, as she said, "he arranged all my exhibitions, did everything for me," the gallery's first show featured 30 of Jean Cocteau's drawings. The gallery held Kandinsky's first solo exhibition in Britain, exhibited the works of Wolfgang Paalen and Yves Tanguy, and held group exhibitions of sculpture and collage, featuring Henry Moore, Alexander Calder, Jean Arp, Pablo Picasso, Georges Braque, Raymond Duchamp-Villon, Kurt Schwitters, and Constantin Brancusi. Guggenheim began her practice of purchasing at least one artwork from each exhibition, building her own collection. The first work she bought was Jean Arp's Shell and Head (1933) of which she said, "I fell so in love with it. The instant I felt it I wanted to own it." She also freely explored her own sexuality, having hundreds of affairs and brief encounters, with artists like Tanguy and writers like Samuel Beckett. At the same time, as art historian Donald Kuspit said, "Art gave a meaning to her life....the Modern, the avant-garde artists confirmed her sense of being, in some peculiar way, an outsider. Art became her way of finding herself emotionally."
Art of This Century Gallery, 1942
Cultural critic Carlo McCormick described the New York art scene in the early 1940s as a "small kind of gentleman's club and the story was that you could fit the given art world into a small room in New York." At the same time, that world was changing as many European artists immigrated to New York, fleeing World War II and Nazi Germany. In 1942, Guggenheim opened her Art of This Century Gallery, with sections devoted to Surrealism, Kinetic art, Cubist, and abstract art; as art historian Dore Ashton noted, her "gallery was one of the first international galleries in New York City mixing American and European art." Anton Gill described how, at the gallery's premier, Guggenheim wore, "one earring made for her by Calder and another by Yves Tanguy, to express her equal commitment to the schools of art she supported."
Frederick Kiesler designed the innovative gallery to create a totally modern experience; some paintings were hung on universal joints, which allowed viewers to turn the paintings to experience different angles of light, thus, creating a more intimate relationship between the viewer and the work. He created an unusual lighting design that occasionally plunged an entire gallery into darkness, and his furniture acted both as seats for gallery-goers as well as easels for paintings.
Through her trusty advisor Howard Putzel, Guggenheim began discovering American artists. She became an early patron of Jackson Pollock, providing him with a monthly stipend, his first commission, and his first exhibition. As the art critic Clement Greenberg wrote, she gave "first showings to more serious new artists than anyone else in the country," and as the artist Lee Krasner wrote, "'Art of this Century' was of the utmost importance as the first place where The New York School could be seen, her gallery was the foundation, it's where it all started to happen." With her 1942 Exhibition by 31 Women Guggenheim also held the first exhibition solely devoted to women artists, though it had unexpected personal consequences. One of the artists was Dorothea Tanning with whom Max Ernst fell in love, leading to his divorce from Guggenheim in 1946, an event of which Guggenheim said, in her characteristic ironic way, "I should have had 30 women. That was my mistake."
Venice: 1947-1979
In 1946 Guggenheim published Out of This Century: Confessions of an Art Addict, her autobiography that created something of a scandal due to her honest and revealing recount of hundreds of affairs and sexual encounters she had had with various writers and artists. Her family was dismayed, as her wealthy uncles tried unsuccessfully to buy up all the copies, and critical response was equally dismissive. The Chicago Tribune caustically wrote that it should have been titled, "Out of My Head." Wanting a fresh start, she closed her gallery in 1947 and moved to Venice, which she called "the city of her dreams." In 1948, the Venice Biennale invited her to exhibit her collection, which marked the first time the works of Pollock, Mark Rothko, and other American artists had been seen in Europe. She subsequently bought the Palazzo Venier dei Leoni, an unfinished 18th-century building on the Grand Canal, where she resided for the rest of her life.
In Venice, she became a celebrity, known for her butterfly sunglasses, designed by Edward Melcarth, which she wore everywhere as she navigated the city in her private gondola and her accompanying dogs. Her home was a hub for visiting writers and artists, and she also promoted the works of emerging Italian artists like Marini. In 1951, she opened her home as a museum to the public, and in the subsequent decades, she also loaned her collection to various museums in Europe and the United States. As a result, as art curator Jeffrey Deitch noted, "Peggy Guggenheim was one of the links between European and American modernism. Between surrealism and abstract expressionism." Despite her successful life as a collector and though she had a number of liaisons with young Italian men, she was frequently lonely, writing in a letter, "God forbid my ever getting too attached again in my life to anyone. So far everyone I loved has died or made me madly unhappy by living. Life seems to be one endless round of miseries. I would not be born again if I had the chance." Guggenheim continued collecting art until about 1973, and in 1962 Venice bestowed upon her an Honorary Citizenship. She died in 1979, and her ashes remain on the grounds of the Venetian palazzo that houses her collection.
The Legacy of Peggy Guggenheim
Guggenheim returned to New York in 1969 when the Solomon R. Guggenheim Museum, founded by her uncle, invited her to show her collection. She said of the occasion, "I was thunderstruck, the entire art movement had become an enormous business venture. Only a few persons really care for paintings." Her model, emphasizing patronage for avant-garde artists and advocacy for their work, provided an alternative to a market-driven art world. She said, "I am not an art collector. I am a museum." In 1970, she donated the Palazzo Venier dei Leoni to the Solomon R. Guggenheim museum, followed by the 1976 donation of her collection with the proviso it would remain in Venice.
As art critic Allison McNearney wrote of the Peggy Guggenheim collection, "It is not only one of the premier collections of modern art in the world, featuring over 300 works by over 100 of the most influential artists of the 20th-century, but it also has played an integral role in turning Venice into a mecca for contemporary art." Her showing at the Venice Biennale influenced the rise and prominence of the international exhibition, and today the Palazzo Venier dei Leoni permanently houses the U.S. Pavilion of the Venice Biennale. Additionally, it is also the most visited Italian museum of modern art and the second most visited museum in Venice.
Article courtesy of The Art Story, Founder - Michael Zurakhinsky.
Very often brilliant academics explain art solely to other brilliant academics, not to the world at large. Volumes are written that can only be accessed and interpreted by the few.
The Solution: Birth of The Art Story
We believe in a world where the ideas and aspirations behind wondrous art works are accessible to everyone to explore and be inspired by. TheArtStory.org helps millions of people each year understand and enjoy every style of art, from Classical Greek statues, to Dali's Surrealist concoctions, to Contemporary Conceptual explorations.
Note: Content and images not intended for copyright infringement.